Official Updates--The 53th Cosmoprof Worldwide Exhibition
views;:423
AddTime:2020-02-26
Official News--The 53th Cosmoprof Worldwide Exhibition
https://www.cosmoprof.com/en/official-updates/>
The 53rd Bosnia Cosmoprof Worldwide exhibition, which was originally scheduled to be held in the fashion capital of Italy on March 12-16, 2020. Due to the current Italian public health and safety considerations, the exhibition organizer officially announced on JUNE 17: The beauty show will be postponed to March 18-22, 2021. The Cosmoprof Worldwide exhibition in Bologna is the world's top beauty trade show. It has become a beauty exhibition platform for beauty professionals, companies and brands in various countries to expand business opportunities and explore industry trends.
The Bologna show in 2019 has over 3,033 exhibitors (70 countries of origin), 260,000+ visitors (154 countries of origin) and over 200,000 square meters of exhibition space. At the 53rd Bosnia Cosmoprof Worldwide exhibition in 2020, it is predicted that the exhibitors and visitors will far exceed 2019, and the scale and impact will also far exceed previous years. Although the exhibition could not be held as scheduled, as exhibitors all expressed their understanding and cooperation with the organizers.
After attended the Cosmoprof Worldwide in Bologna in 2019 as an exhibitor, Shanghai Tianze Electromechanical Co., LTD will also participate in this grand meeting as an exhibitor of cosmetics equipment production next year.
TENZ relies on both of "sustainable development" and "tailored", which are the exhibition concepts and influences of Cosmoprof brand, and also adheres to the company's development philosophy: innovation、research and development、intelligence, to be the strongest and most powerful in the cosmetics field Top contributors. TENZ will continue to explore and create business opportunities with all who are at this Cosmoprof Worldwide exhibition in Bologna 2021!

TENZ Booth information
Time:
2020.03.18--2020.03.22
Booth Number:
20-C2
Equipments models:
Semi Automatic Lipgloss&Mascara Filling Machine(TM-12-1B)
Double Godets Fully Automatic Servo Motor Powder Press Machine(TP-8-01E)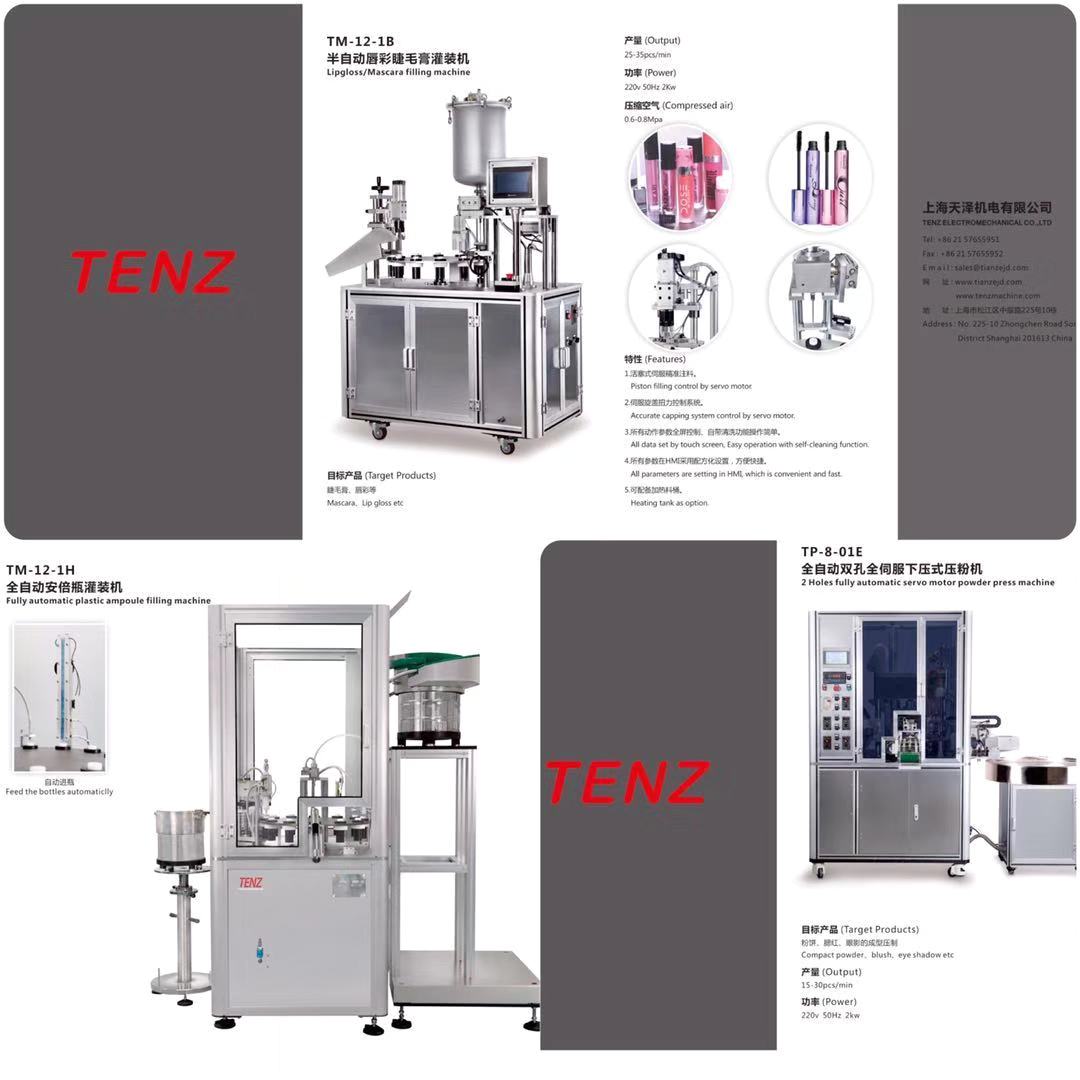 Warmly welcome to come to the Tianze booth! Meet you ......
TENZ