THE 24th COSMOPACK & COSMOPROF ASIA (12-15 of November)
views;:416
AddTime:2019-10-26
THE 24th COSMOPACK & COSMOPROF ASIA
The Asia Beauty Exhibition will be held in Hong Kong from November 12th to 15th. The COSMOPACK ASIA exhibition will be held at AsiaWorld-Expo Center from November 12th to 14th, and the COSMOPFOF ASIA will be held at the Hong Kong Convention and Exhibition Center from November 13th to 15th. By then, it is expected that more than 24 countries (including the United States, Britain, China, Germany, Italy, etc.), 950+ exhibitors, and 87,000+ visitors will participate in the Asian Beauty Exhibition.
The COSMOPACK ASIA exhibition held at AsiaWorld-Expo Center from November 12th to 14th, and will bring together the world's top packaging and manufacturers, dvanced materials and formulas, production machinery and equipment, packaging design, contract manufacturing, and cosmetics tools. "Shanghai Tianze Electromechanical Co., Ltd." will also participate in the exhibition with intelligent makeup production equipment. At that time, people from all walks of life are welcome to visit the TENZ booth
TENZ Booth NO: 9-E12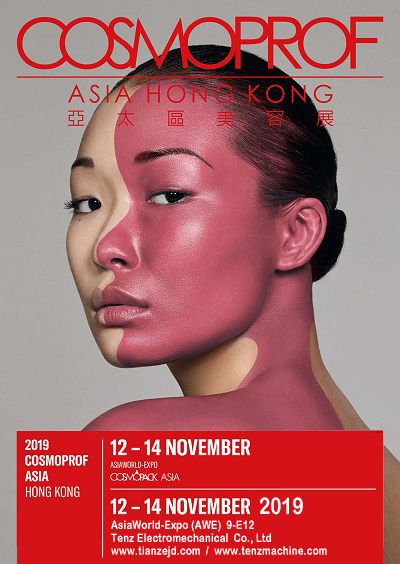 Shanghai Tianze Electromechanical, as a cosmetic machinery manufacturer with a history of 15 years, has extensive experience in the design, development and production of cosmetic equipment in this field. At present, the company's self-developed and produced cosmetics equipment includes: lipstick, lip balm, mascara, lip gloss, eyeliner and other filling and labeling production equipment; also includes powder, mixed powder, baking powder, loose powder filling, etc. Powder production equipment. Tianze Electromechanical intelligent and advanced production equipment has been exported to the United States, Italy, France, Indonesia and many other countries, also has been recognized and praised by customers.
Shanghai Tianze Electromechanical adheres to the spirit of continuous innovation and research and development, and will always be on the career path of "being the strongest and best contributor in the cosmetics industry"...
TENZ Map of AsiaWorld-Expo Center(AWE)